Veterans Day ~ November 11
On November 11 each year we celebrate Veterans Day in America. It's a special day to remember all who have served in the Armed Forces. Enjoy today's Music Lesson for Veterans Day and take some time to celebrate those who worked to allow us to be free!
Armed Forces Hymns
This first video goes through all 5 of the Armed Forces with their special song or hymn. Choose your favorite and sing along with it--the words are on the screen!
Army "The Army Goes Rolling Along"
Navy "Anchors Aweigh"
Coast Guard "Semper Paratus"
Air Force "Nothing'll Stop the U.S. Air Force"
Marines "The Marines' Hymn"
Short Lesson about "The Army Song"
Here is a lesson about the Army Song from a 30-year retired veteran and Military Musician (trombone player and eventual Band First Sergeant) who is now a band director at a K-8 Christian School. She said that the above version of "The Army Song" has incorrect lyrics. Most non-military sites use a very old rendition from the original march "Caissons Go Rolling Along", but the words were changed several decades ago, and it's called "The Army Song" now. About 10 years ago they updated it to include the opening verse, but the Chorus and Refrain is what is sung to the original familiar tune. She said, "I'm just sharing with people who don't know in an effort for more people to learn the official and correct version we Army Soldiers know and love!"
"The Army Song"
Verse:
March along, sing our song, with the Army of the free.
Count the brave, count the true, who have fought to victory.
We're the Army and proud of our name!
We're the Army and proudly proclaim:
Chorus:
First to fight for the right,
And to build the Nation's might,
And The Army Goes Rolling Along.
Proud of all we have done,
Fighting till the battle's won,
And the Army Goes Rolling Along.
Refrain:
Then it's hi! hi! hey!
The Army's on its way.
Count off the cadence loud and strong;
For where'er we go,
You will always know
That The Army Goes Rolling Along.
A Dance for Veterans Day
In this next video, we watch a dance which tells the story of a veteran and his family.

(Caution: This is an absolutely beautiful and amazing performance, but it does tell a sad story. I cry every time I watch it. If this is a sensitive topic for your family, you may want to skip this one.)

Our last two videos are songs sung by children which give tribute to the wonderful men and women we honor on Veterans Day.

More Veterans Day Resources
If you would like some more resources to help you study Veterans Day, see the following links:
Veterans Day Book Ideas for Elementary, Middle School, and High School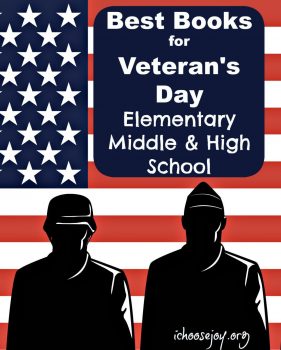 Here are the questions/answers you can include in your lap book:
Why do we celebrate Veterans Day? To honor those who have served and still do serve in the U.S. military
What are the 5 branches of the Armed Forces? Army, Navy, Air Force, Marine Corps, and Coast Guard
What is a Veteran? A person who has served in the armed forces during war or peacetime.
What day is Veterans Day each year? November 11
Why was November 11 chosen to be Veterans Day? It was originally called Armistice Day because World War 1 (called the Great War) ended on the 11th day of the 11th month at the 11th hour.
Who first began the celebration of Armistice Day? President Woodrow Wilson said the U.S. should celebrate the first anniversary of Armistice Day with parades and meetings, and businesses stopped for 2 minutes at 11:00 a.m.
When did Armistice Day become a legal federal holiday? 1938
When was the name changed to Veterans Day? In 1954 President D. Eisenhower changed the name to further honor Veterans of World War II and the Korean War.
Cut out pictures of different uniforms and match them to the correct branch of armed forces.
Name 5 patriotic songs: "The Star-Spangled Banner", "America" ("My Country 'Tis of Thee")," America the Beautiful", "God Bless America", "The Battle Hymn of the Republic" (among others)
Write out one verse of a patriotic song.
Name several ways people celebrate Veterans Day: church services, visiting cemetery, schools and businesses have the day off, invite Veterans to speak at your school or event, provide free meals or services to Veterans.
How many Veterans are there? Since the U.S. formed in 1776, over 48 million Americans have served in the military.
Where does the word "veteran" come from? "Veteran" comes from the Latin word veteranus which means "old".
Name different wars the United States has been in? Revolutionary War, War of 1812, Civil War, World War I, World War II, Korean War, Vietnam War, Persian Gulf War, War on Terror
Draw an American Flag. How many stars (50); how many stripes (13)?
(For an additional activity you might like to do while studying patriotic music, head here for the Veterans Day Activity Pack, Lapbook, and Coloring Pages!)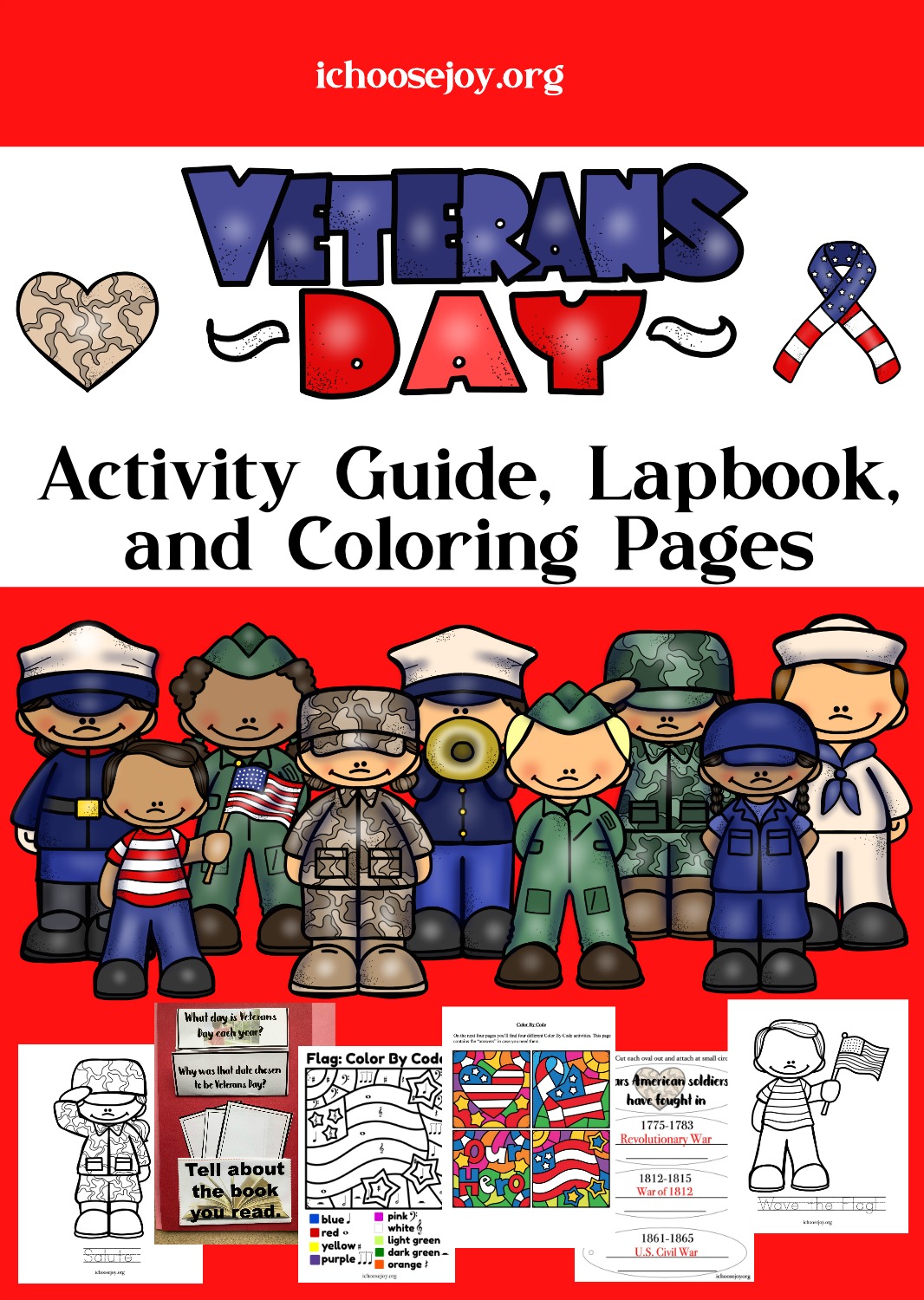 Veterans Day printable.pdf
Complete and Continue