How to Use "State Songs of the 50 U.S. States" Course
How to use:
Each "Lecture" in State Songs of the 50 U.S. States online course is a new state's lesson.
Choose to go through one a day with your kids or spend as much time as you need studying each state by delving deeper into the subject, watching the videos again, singing and/or playing the state song, and exploring related websites.
As you work on the course, it automatically keeps track of where you are. When you are finished with a lesson, click "Complete and Continue" to move on. You can always come back to past lessons, though.
Optional Textbook to Use with this Course:
A brand new curriculum came out in 2020 from Notgrass for grades 1-4 called Our 50 States. "It combines the flexibility and richness of a unit study with the simplicity of a textbook-based approach. In addition to narrative lessons about people and places from around the U.S., students learn through songs and hands-on activities." It's the perfect companion to the State Songs of the 50 U.S. States online course!
Notebooking Pages
(A great company to get inexpensive printing is The Homeschool Printing Company.)

The lessons in this course include a PDF notebooking page that you can copy for each lesson. These are optional, but you might find them useful to print out for your kids to use.
If you'd like more detailed notebooking pages, I recommend using one of the U.S. state curricula listed here:
This 64-page set of notebooking pages is perfect to guide 2nd-6th graders on a research-based study of the 50 states of the U.S.A. It includes a notebooking page for each of the 50 states with a traceable map where your children can highlight notable places – like capital cities, key historical sites, and/or major tourist attractions. Additionally, cut and paste full-color flags and state seals (included in the download) will make each notebooking page colorful and complete.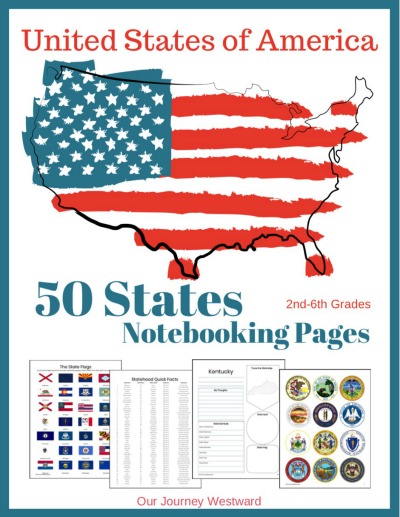 This set includes the U.S.A. Activity Pages, one for each of the 50 state where students map the location, capitol, landmarks, abbreviation, nickname, state flower, and state bird. Children color the state flag as well as the state flower and state bird with ample room to add interesting facts and notes. This activity pack includes two games to finish out your unit: USA Bingo & Roll Across America.
The second part is the U.S.A. State Bird Art Cards where children can color their way through our nation's state birds with these fun and realistic art cards. Each bird is shown with its unique markings for children to copy and color their own. Each bird features a coloring card, visual fact card for children to fill in, and memory matching cards. This set include 27 different birds as many states have the same state bird.
The final part of this set is the U.S.A. 50 State Mazes which includes a fun and challenging maze for each of the 50 states. This activity pack is sure to excite your children during your U.S. Geography studies. Suggested age range is K-3rd for a challenge, but older children will enjoy them as well.
Each individual set of state notebooking pages includes a Notebook Cover (1 page), Map, Nickname, & Motto Page (1 page), State Facts Reporting Page (1 page), State Timeline Recording Page (1 page), State Symbol Pages – bird/flower, tree, flag, seal, song (6 pages), Map Pages (2 pages), Template Pages for History, Government, Famous People, Inventions, Tourism (2 pages each), Template Pages (Blank) – for your own topics (4 pages), State Symbol Pages (Blank) – draw your own symbols (11 pages), Cutouts for Notebooks or Lapbooks (3 pages), Travel Journaling Pages (4 pages), and 2 pages of Info, ideas, directions, and state facts.
What better way to learn about state names, capitals, and facts than with a game? The Name That State! file folder game is designed to help drill state shapes, names, initials, capitals, regions, and more. Players compete to see who can remember and claim more states in a game that can vary dramatically in difficulty, from basic beginner information to including more complex facts.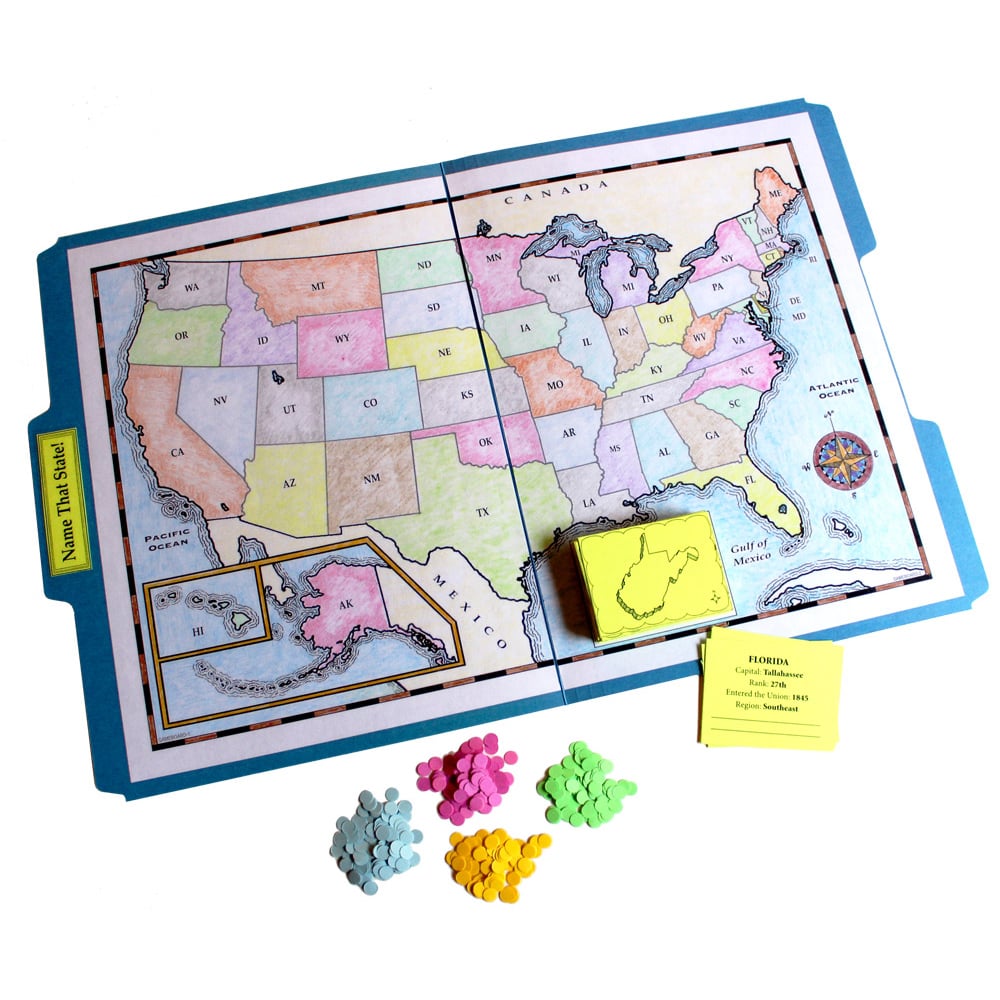 In this set, you get a notebooking page for each state where the child writes the name of the state, colors it on a U.S. map, colors the flag, and adds pertinent information such as motto, bird, nickname, flower, the capital city, and abbreviation. All the answers are included, so you don't have to do any research! Also included is a set of flashcards for learning the capital cities of each state, an alphabet order game, and more.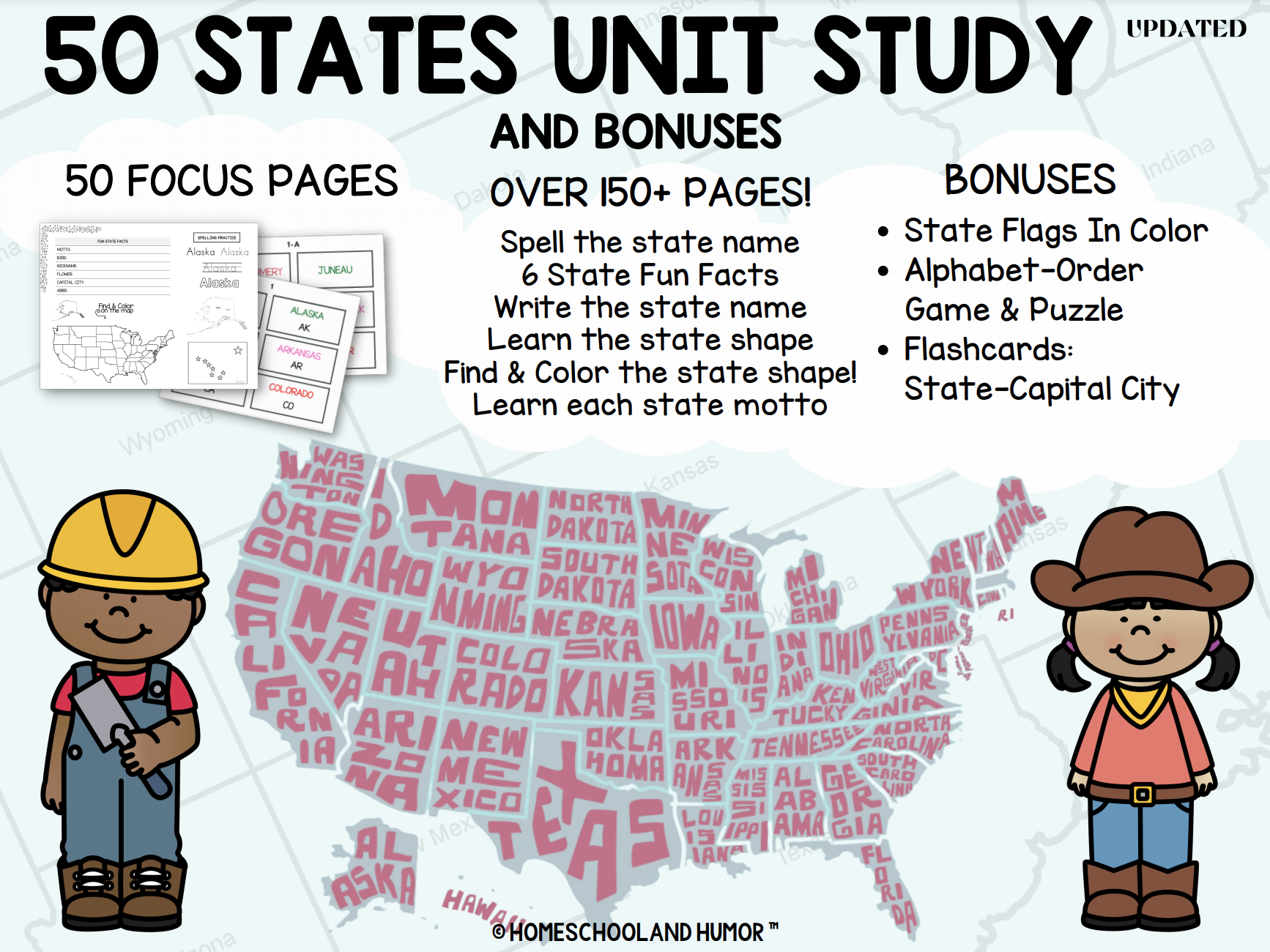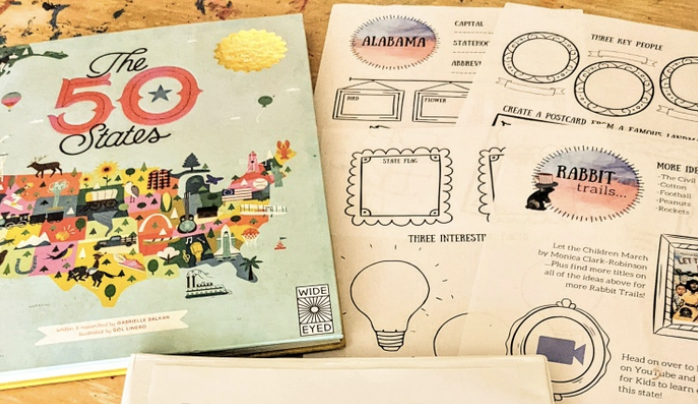 Additional Resources for Your U.S. State Studies
The course State Songs of the 50 U.S. States can be used as stand-alone curriculum.
But, if you are looking for more to do for a larger unit study on the states of the USA, see this blog post for books, movies, crafts, activities, field trips, recipes, printables, and other resources to guide you: The Ultimate List of U.S. State Study Resources
Caveat and warning on videos posted
Since every family is different in what you deem appropriate for your kids to watch or read, you may want to preview all videos and websites ahead of time, especially the ones listed at the end of each lecture (more of the "rock" style songs).
What do I do if a link is broken or video is no longer available?
Simply leave a comment right there at the lesson or email Gena at [email protected], and I'll get it fixed ASAP! Thank you for your help and taking the extra time to let me know about them.
What to do if you are seeing inappropriate ads with the YouTube videos:
We are thankful for the "free" resource of YouTube, but we do occasionally have to let their ads run. If you are noticing that you are seeing some inappropriate ads, see this link which will give you ways to block advertisers. You might also need to clear your cookies/history.
And be sure YouTube is set to restricted mode!
What is the Copyright information?
© 2016-2023 Gena Mayo | I Choose Joy! Publishing | ichoosejoy.org and musicinourhomeschool.com
All rights reserved. No portion of this course may be reproduced, stored in a retrieval system, or transmitted outside immediate household in any form or by any means—electronic, mechanical, photocopy, recording, scanning, or other—except for brief quotations in critical reviews or articles, without the prior written permission of the publisher.
How many copies can I make?
Photocopies of lessons and notebooking pages may be made for only one household or one school classroom of children.
(A great company to get inexpensive printing is The Homeschool Printing Company.)

Can I use the course to teach at a school or co-op?
Purchase of the course is only for one classroom at a school or one family in a household. To obtain a license to use in multiple classes at school or a homeschool co-op, contact Gena Mayo at [email protected].
Refer a Friend Program:
I'm excited to share that Music in Our Homeschool now has a referral program! If you successfully refer a friend to make a purchase at Music in Our Homeschool, both you and your friend will earn a 10% discount on your next purchase! See a separate section labeled "Refer a Friend Program" below for all the details and your unique link to share.
How to contact me:
I welcome any comments of suggestions you may have to improve this course or ideas for future courses. Just leave a comment on any lesson and I'll get it. Please take a moment to leave a comment any time you find a broken link. I would like to fix those immediately!
Thank you and enjoy the State Songs of the 50 U.S. States online course!
Affiliate Disclosure:
Learn.MusicinOurHomeschool contains links from a number of affiliate programs. If you click on these links and make a purchase, I may receive a commission. This does not cost you any more, and it helps cover costs associated with running the website. I am honest in my review of the products and only recommend products I would actually find useful myself.
Complete and Continue